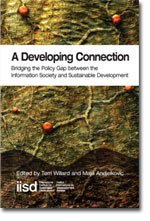 Using Technology for Sustainable Development...
This 220 page e-book (also available in print version from IISD Publications) features several case studies on the use of information technologies to sustain development around the globe, including South Africa, Egypt, Kenya, and other locations.
IISD's vision is better living for all - sustainably; its mission is to champion innovation, enabling societies to live sustainably. In 2003, participants in the largest international effort to direct the use and development of ICTs, the World Summit on the Information Society (WSIS), declared a common, global desire and commitment to building a people-centred, inclusive and development-oriented society, one where everyone can create, access, utilize and share information and knowledge, enabling sustainable development and improving the quality of people's lives.
Buy the printed version from IISD!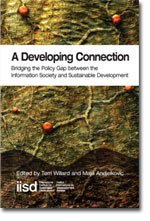 A Developing Connection,...

$10.00 USD
| | |
| --- | --- |
| An entire online e-book available free to browse from IISD Publications (2005). | Written for IISD Publications by Terri Willard, Maja Andjelkovic, et al. |
Introduction

In "A Developing Connection," seven young researchers from six countries look at the emerging relationship between sustainable development and the information society. The potential of information and communications technology to contribute to a more sustainable world is limitless. The challenge is to bring the policy communities together and help them understand the links. In this volume, some important challenges are outlined—and some important examples of success are highlighted.

Based on the premise that researchers would strengthen their capacities for analysis, writing and policy engagement throug practice, IISD also sought to "create the space" for research, which many young researchers lack, and to build the capacity of the young researchers to conduct this type of investigation and get involved in policy processes in the future. A Developing Connection is the outcome of their research to identify intersections between information society and sustainable development policy areas in their countries. The scope, approach and focus of discussion across the papers presented in this collection varies according to the interests and background of each author, as well as to the national policy context in each country.



Click to Read more about A Developing Connection in IISD Publications's online version of this free to read book.