Electronic Literature Search
Overview
"Information is Power."
- M. Orsolits, C. Davis & M. Gross, 1988, p. 108.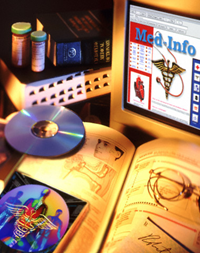 The use of computers can encourage the rehearsal and development of higher-order thinking skills such as synthesis, algorithmic thinking, intuition, creativity, and "free-flow" thought. With the help of a computer, the same data or information can be easily clustered or cut in quite different ways to help the user to view the same problem or topic from quite different angles, and to synthesize "meta-knowledge," (Toffler, 1990). A good way to begin to use computers in education is to conduct electronic literature searches.

An electronic literature search is a process in which an individual identifies in specific terms what information is needed, chooses the computer database most likely to contain it, accesses the database and retrieves the literature sources related to the topic of focus, (Kilby & McAlindon, 1992). Post-secondary students and health professionals can quickly access information using an electronic literature search. Once the rudimentary process is mastered, nurses can have current information immediately available to facilitate professional nursing practice, education, research, and administration.

Ends in View

This learning activity is intended to give the learner the opportunity to:

a) gain awareness of the process of engaging in an electronic literature search.

b) appreciate the significance of having access to current on-line data and information.

c) engage in the process of conducting electronic literature searches.

In Preparation

1. Read: Alpha Plus Centre (2004). Tips for Conducting Literature Searches, Ottawa: Human Resources and Skills Development Canada at:
https://rauterberg.employee.id.tue.nl/lecturenotes/literatur-search-tips-2004.pdf

2. Recall: the computer instruction given by your Library Guide during your Library orientation.

3. Practice: accessing the KPU Library website at: (click on web address) https://www.kpu.ca/library/

4. Access: the Subject Guides by going to:
https://libguides.kpu.ca/resources

5. Go further and look at the Subject Guide for Nursing and Allied Health Professionals at:
https://libguides.kpu.ca/nurse

In Practice



"Electronic databases allow users to conduct comprehensive literature searches over a shorter period of time than could be accomplished via a manual approach. More than 200 universities and public libraries offer on-line databases for review. The primary databases for searching nursing and health care literature are the Cumulative Index for Nursing and Allied Health Literature (CINAHL) and Medline. Both the CD-ROM and online versions of CINAHL and Medline allow you to enter search subjects and then narrow the search by language, journal subset, and publication year," - (Mascara, Czar & Hebda, 1999, p. 42).



1. Choose a topic related to the concepts studied in Health 1 that has personal meaning to YOUR health, interests and well-being.

2. Conduct an electronic literature search using one of the following database directories:

a) CINAHL at: https://libguides.kpu.ca/az.php

b) ACADEMIC SEARCH COMPLETE at: https://libguides.kpu.ca/az.php

c) PUBMED at:https://www.ncbi.nlm.nih.gov/pmc/

3. Print out a minimum of five literature citations related to your chosen topic.

4. Access one of these citations, either by finding it in a book or journal in the library, or a resource accessible online.

In Reflection

1. How useful were the citations you gathered during your electronic literature search?

2. How will using electronic literature searches facilitate your:

a) scholarly work?
b) Nursing work?
c) personal self-development?

3. Would owning a personal computer benefit your studies and future practice? Why?

References
Mascara, C., Czar, P. & Hebda, T. (1999). Internet resource guide for nurses and allied health care professionals. Menlo Park, CA: Addison-Wesley, p. 41-44.

Orsolits, M., Davis, C & Gross, M. (1988). Nursing informatics and the future: The 21st century. In Ball, M., Hannah, K., Gerdin-Jelger, U. & Peterson, H. (eds.) Nursing informatics: Where caring and technology meet. New York: Springer-Verlag, p. 289-300.

Toffler, A. (1990). Powershift. New York: Bantam.

NEXT: Nursing Informatics as Competency .....