Reverie Journaling & Blogging
Overview
"Writing journals bridges the inner and outer worlds
and connects the paths of action and reflection."


- C. Baldwin, 1990, p.9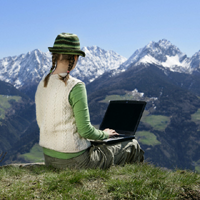 Since ancient times, the journal has been recognized as a versatile tool for inner exploration. Journal writing has a natural, regular rhythm to it that helps the writer order their perceptions, insights, and experiences into meaningful patterns. Semester 1 focuses on your personal discovery of your self and your self with others. Journaling can be used to articulate your thoughts, feelings, and experiences in your process of self-discovery. Reverie or "free-flow" journaling is a useful style of writing when exploring inner processes. Using a familiar word processing program on a computer allows you to write without initial concern for format or structure. Once your writing is expressed, edit features of the program can be used to easily polish your rough work into clear and synthesized journal entries.
Ends in View
This learning activity is intended to give the learner the opportunity to:
1. Use a computer to freely explore and express personal beliefs, values, feelings and insights about themselves and their self with others.
2. Document their process of self-exploration and personal evolution using a computer.
3. Examine their self in relation to different points of view, personal meaning, biases, hegemony, gender, and culture.
In Preparation
1. If you need tutoring in using a Word Processing program, access the online tutorials at the Microsoft Education site for Word and MS Office . Or go to the Microsoft Office 365 Tutorials for Word.

2. Access a wordprocessing program that "feels right" to you. Word 365 is the most common program on campus. You may also like Open Office or the latest version of Apple Pages. Familiarize yourself with the program's functions, as your need requires. Several programs are available on the campus computers in the Learning Resource Center, or the Computer Labs (Bldg G and in the library).
3. Visit Zapier at: https://zapier.com/blog/best-journaling-apps/ to view some apps for daily digital journaling.
4. Browse: The best free blogging platforms in 2021 at: https://www.creativebloq.com/web-design/best-blogging-platforms-121413634. Blogging is a huge phenomenon in cyberspace, affording people an easy to use place to journal and share their thoughts, feelings, and viewpoints with the rest of the global community.
5. READ: Phipps, J. (2005). E-Journaling: Achieving Interactive Education Online Educause Quarterly. 28 (1).

In Practice

Engage in the practice of "Reverie Journaling" using the wordprocessing program of your choice OR initiate your own Blog site to practice the journaling process in an online environment.
Directions:
Sit comfortably at your computer. If possible, create an aesthetic and relaxing environment for yourself (pleasant music, flowers, soft lighting, incense or aromatherapy, comfortable chair).
Allow your mind, emotions and body to relax. Take a few deep cleansing breaths as you allow your hands to rest comfortably in your lap. Tune into the moment.
When ready, begin to type. Explore whatever topics come to mind in relation to your own inner growth and your way of being in the world. Allow your thoughts and feelings to flow, emerging as personal printed words of self-discovery and inner truth.
Continue the experience until you sense that you have completed your expression for now. Read over your work, and polish it using the format, edit, and spellcheck functions of the program.
Review your edited work. Notice the themes and patters that emerge. You may wish to reorganize your work using block, cut, and paste functions to better highlight the inherent content patterns. Be creative!
When you are satisfied, save your entry to the hard drive or a floppy disk and print out a copy of your reverie. Engage in this activity on a regular basis to create a personal electronic journal of your self discovery journey.
Variation A: Focused Work
Again, settle yourself at the computer. Allow your thoughts to flow, but this time in a more focused way. Select a creative idea you want to explore...or a decision you need to make,..or a problem you want to solve, etc. Spend about 15 to 20 minutes typing all the thoughts, feelings, flashes, blocks, anything that comes to mind related to your focus topic. Let the information flow with abandon.
When done, again format and edit your work. Block and group your ideas into themes and patterns. Add subheadings to further organize your creative ideas and solutions. What new ideas come up as you edit your work? Add these to your text.
Finally, save your work onto the hard drive and/or a floppy disk. Print out a copy of your creation. You will likely end up with a preliminary plan for action to help you to create, make a decision, or solve a problem. Again, you may wish to keep an electronic journal of your creative insights, decisions, and problem-solving.
Variation B: Try an Electronic Paint Brush.
You may wish to express your thoughts, creative urges, and inner processes in a graphical way. Access a drawing or graphics program (Paint Brush is available in any version of Windows, on all campus computers). Again, sit quietly at the computer and let your imagination and expressiveness flow with abandon.
Create a diagram, a painting, a conceptual model, a symbol, a personal shield, logo or emblem, or whatever you fancy to represent your inner experience of yourself in this present moment. Experience the exquisiteness of yourself and of this moment.
Let your creation mirror your present inner experience. This could manifest as a bold, angular catharsis or a finely-executed, pixel based statement of meticulousness. Again, let the creative juices flow. You can save your work at any time, if you have chosen to create a time-consuming masterpiece. When done, remember to save your creation and print out a copy. You can accumulate a portfolio of your self exploratory artwork if practiced over time.
In Reflection
1. How does creating an electronic journal compare with scribing a journal on paper?
2. Were you able to relax with your chosen wordprocessing program enough to fully engage in the reverie exercise? If not, how can you foster your computer literacy in wordprocessing?
References
Anderson, S. (1992). Computer literacy for health care professionals. New York: Delmar, p. 37 - 49.

Baldwin, C. (1990). Life's companion: Journal writing as a spiritual quest. New York: Bantam.

Emden, C. (1992). Becoming a reflective practitioner. In Gray, G. & Pratt, R. (eds.) Towards a discipline of nursing. New York: Churchill. p. 335-354.

Heinrich, K. (1992). The intimate dialogue: Journal writing by students. Nurse Educator, 17 (6), 17-27.
NEXT: Computers in Nursing Practice LEARNING ACTIVITY....

.