Nursing Informatics in Discharge Planning
Overview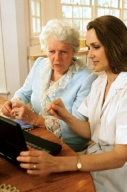 "Although many computer applications directly benefit nurses and other health care professionals, the instructional use of computers for consumers is becoming more prevalent. Direct uses include software designed to educate consumers, and the availability of information via the Internet, Web sites, and e-mail. Client education materials and discharge instructions by hospital information systems can also be generated by computer"


- (Hebda, Czar & Mascara, 1999, p. 237).

Shorter acute care hospitalizations necessitate careful discharge planning with clients. Nurses are expected to teach hospital clients and their families the physical and technical aspect of the client's care before the client is discharged. Due to time constraints and heavy workloads, discharge preparation may be a challenge for most nurses to provide.

Effective discharge planning involves comprehensive and ongoing assessment, not only of physical and psychological needs, but also of the availability of family caregivers, the home environment, client and family resources, and the community resources available. Because of shortened hospital stays, discharge planning must begin when the client is first admitted to the hospital to ensure that adequate teaching, support, care, and services are available before and after discharge. Printed instructions are important for reinforcing the information given to the client. Computer-generated discharge summaries and instructions can be used by nurses to provide individualized, legible discharge teaching, tailored to each unique client. As well, post discharge information can be made available in a web-based Internet environment for client updates and interaction.

Ends in View

This learning activity is intended to give the learner the opportunity to:

1. Engage in the process of discharge planning.

2. Demonstrate skill in creating a discharge plan using a computer program.

3. Appreciate the utility of electronically based discharge planning for providing well rounded transitional care to clients.

In Preparation

1. INVESTIGATE: the types of written materials used for discharge planning in your Nursing Practice area. Are these materials processed manually or by computer?

2. REVIEW: the process for discharge planning that is used in the Practice agency you have access to. The process may include: verbal information, written materials, interdisciplinary consultations, service and resource referrals, family preparation, home inspection, computer printouts, web-based information sources, and so on.

3. SEARCH: the literature (texts, journals, online resources) for current theory and directives for discharge planning from acute care settings.

4.

READ: Ciemins, E. (2013). Improving Provider Communication to Improve Transitions in Patient Care. AHRQ Health Information Technology Ambulatory Safety and Quality Publication No. 13-0055-2-EF

NOTE: Be sure to view the video for this paper

5. EXPLORE: The web-based patient information and record access program: About My Health Overview. http://www.aboutmyhealth.org/

6. BROWSE: Discharge from Hospital: Pathway, Process and Practice at:
http://www.dh.gov.uk/assetRoot/04/11/65/25/04116525.pdf

7. BROWSE: the online Emergency Discharge Instructions for a number of conditions, prepared by Fraser Health.

In Practice

1. In collaboration with your selected client, their family, faculty, and relevant health care professionals, create an individualized discharge plan. If possible, create the plan with a client with whom you plan to visit in their home, post-discharge.

2. Select a word-processing or desktop publishing program. Using this program, create an electronic discharge plan for your selected client.

Possible formats for this plan include:

a) A "fill in the blanks" information sheet with categories and relevant guidelines.

b) A table or chart.

c) A pamphlet or brochure, using a desktop publishing program such as Word or Pagemaker.

Remember to use clear language, attend to readability, and avoid using nursing jargon. Make your creation comprehensive yet pleasing to the eye. Save your creation on disk and print. Share your work with your client, faculty and your peers. You may also wish to share it with relevant health care providers.

In Reflection

1. What health care and societal factors affect the quality of discharge teaching within the hospital setting?

2. How can nurses create time and resources to ensure clients receive adequate discharge planning and follow-up care in their homes?

3. What kind of computer applications (for instance, NIS or HIS systems) could facilitate discharge planning?

4. How could a computer system be used to provide comprehensive information to follow-up health providers, such as Community Health Nurses? What role does the web and Internet play in this?

References

Hebda, T., Czar, P. & Mascara, C. (1998). Handbook of informatics for nurses and health care professionals. Menlo Park, CA: Addison-Wesley.

NEXT: On-line Health Challenge Research ....

.