Use of Nursing Information Systems (NIS)
in Acute Care Settings
Overview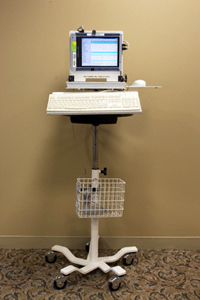 "Nursing Informatics, through the use of computers, can facilitate and speed information sharing in all practice areas. For this to be most effective, nurses must have a basic understanding of informatics. Understanding current and evolving technology for the management and processing of nursing information helps the nursing profession assume a leadership position in health reform. If nurses understand the power of technology they can play an active role in evaluating and improving the quality of care, cost containment, and other consumer benefits."

- (Hebda, Czar & Mascara, 1999, p. 6 & 8).
Nursing data are gathered during the practice of nursing through observation, nurse-client interactions, treatment and test results and family disclosure. Data are discreet entities (for instance, a numeric value) and are objectively described without interpretation (Ryan & Nagle, 1994). Nursing information is the transformation of data into an organized, meaningful structure. Nursing knowledge is derived from the practice of nursing science. It represents the rules, relationships, and experiences by which data becomes information. Using their knowledge, nurses synthesize information so that the patterns, relationships, and themes are identified, (Amos & Graves, 1990). Nursing wisdom is knowing when and how to use knowledge. It develops through praxis, and requires knowledge, values, and nursing experience coupled with reflection on one's own practice.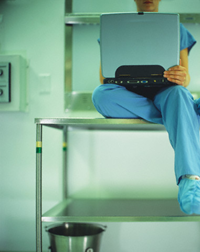 Information technology can act as a break-through tool, enabling nurses to explore and understand the informational and cognitive foundations of their profession. The ability to electronically record, integrate, and analyze data and information enables nurses to quickly move to the synthesis of nursing knowledge and the development of nursing wisdom. When time and energy are at a premium, using a Nursing Information System (NIS) in acute care settings can assist in applying nursing knowledge and wisdom to everyday care (Joos, Whitman, Smith & Nelson, 1992). Documentation can be more timely, more complete, and more accurate when captured at the "point of origin", usually the client's bedside in acute care settings.
The immediate advantage of portable or bedside computer devices is that nurses can "be with" clients throughout the entire collection and recording process, and still document the data collected and care given in "real time." Bedside information processing provides fast and easy data entry, data accessibility, quality checks for accuracy of client care, and quick processing of data into information. Data inputted into a bedside computer can be redirected by the NIS into the client's chart, Kardex, discharge summaries, doctor's alert screens, electronic shift end summaries, nurses' worksheets, and so on. Repetitive documentation of the same data can be greatly reduced.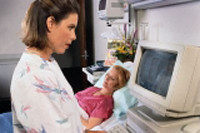 If nurses do not have to spend time re-recording data into a myriad of documents, or labour with data to process information, more time is available to engage in clinical decision-making and the application of nursing knowledge and wisdom. Quality nursing care is supported by integrated NIS resulting in affording nurses more time to engage with clients and their families in meaningful ways. "Nursing information systems ( NIS ) are computer systems that manage clinical data from a variety of healthcare environments, and made available in a timely and orderly fashion to aid nurses in improving patient care.
To achieve this, most NIS are designed using a database and at least one nursing classification language such as North American Nursing Diagnosis (NANDA), Nursing Intervention Classification (NIC) and Nursing Diagnosis Extension and Classification (NDEC).
Some of the features that are provided by NIS include:
·
Patient Charting: A patient's vital signs, admission and nursing assessments, care plan and nursing notes can be entered into the system either as structured or free text. These are the stored in a central repository and retrieved when needed.

·
Staff Schedules: Nurse can self schedule their shifts using scheduling rules provided in shift modules. The shifts can later be confirmed or changed by a scheduling coordinator or manager. Shift modules are designed to handle absences, overtime, staffing levels and cost-effective staffing.

·
Clinical Data Integration: Here clinical information from all the disciplines can be retrieved, viewed and analysed by nursing staff and then integrated into a patient's care plan.

·
Decision Support: Decision support module can be added to NIS , and they provide prompts and reminders, along with guides to disease linkages between signs/symptoms, etiologies/related factors and patient populations. Online access to medical resources can also be made available.
The relationship between computer literacy, technological competence and a nurse's ability to care is congruent for quality care. Computer literacy represents a proactive response to technology which enhances caring in nursing (Delaney, 1990). As well, the ability to apply critical thinking, expert clinical decision-making, and sound clinical judgment are mandatory in today's "high-tech" health arena. As computers and other technologies gain prominence both within health care institutions, and clients' homes as in telenursing, nurses need to find ways to convey their caring despite the gadgetry.
Ends in View
This learning activity is intended to give the learner the opportunity to:
1. Gain awareness of the impact of using NIS in acute care settings to collect, process, and synthesize data and information.
2. Observe NIS use in the clinical practice setting.
3. Understand issues and goals of standardizing electronic patient information systems.
4. Recognize the level of computer literacy necessary to expertly use a NIS.
5. Appreciate the potential of web-based environments for the collection, sharing, and global applications of client data and information.
In Preparation
1. Explore: Health Assessments in Primary Care A How-to Guide for Clinicians and Staff

2. Explore: Pocket PC Medical Software.

3. READ: Bartholomew, K. & Curtis, K. (2004). High-tech, high-touch: Why wait? Nursing Management, 35 (9), 48 – 54.

4. READ: Qualcomm. (2019). AI: Your supportive wellness companion.

In Practice

1. If possible, attend an orientation session related to NIS use in a local clinical practice agency.
NOTE: Some hospitals may not use a NIS yet, but may have a Hospital Information System (HIS) where data and information are shared by different hospital departments, for instance: laboratory, pharmacy, radiology, nutrition services. Take a look at these as well, as able.
2. Gather information about the NIS or HIS used in the agency of your choice.
3. Create a worksheet using a word-processing or desktop publishing program. You may want to use a "fill in the blanks" format, columns, a table, a flowchart, - use whatever feels best for you.
4. When finished gathering information from various sources (nurses, ward clerks, unit managers, HIS coordinator, online resources, faculty, and so on) about the NIS or HIS used, record or incorporate the information into your worksheet.
5. Include information related to the types of printed documents outputted by the NIS or HIS.
If possible, look closely at the computer menus, display screens, access methods and notice how data is entered and processed.
6. You may have the opportunity to actually use the NIS or HIS used in the clinical agency where you are assigned for Nursing Practice. If so, include the information related to the "hands on" operation of the system.
In Reflection
1. Reflect on your thoughts and feelings related to using a bedside NIS in your nursing practice.
a) What advantages do you predict?
b) What limitations may exist?
2. What factors could inhibit a nurse's readiness to use a NIS to document nursing care?
References

Biohealthmatics. (n/d). Nursing Informatics. http://www.biohealthmatics.com/healthinformatics/nursinginformatics/nursinfo.aspx

Caloren, H. & Salois-Swallow, D. (1994). Strategic Plan on Health Care Technology. In Grobe, S. & Pluyter-Wenting. (Eds). Nursing Informatics: An international overview for nurses in a technological era.St. Louis: Mosby, 42 - 45.

Delaney, C. (1990). Computer technology: Endangering the essence of nursing? In J. Comi-McClosky & Kennedy-Grace, H. Current issues in nursing, St. Louis: Mosby, 601 - 606.

Joos, I., Whitman, N., Smith, M. & Nelson, R. (1992). Computers in small bytes. New York: National League for Nursing.

Locsin, R. (1995). Machine technologies and caring in nursing. Image: Journal of Nursing Scholarship, 27 (3), Fall, 201 - 204. Roach, S. (1987). The human act of caring. Ottawa: Canadian Hospital Association.


NEXT: Nursing Informatics in Discharge Planning ....

.