Lifelong Learning and Computers
(Portfolio Development II)
Overview

"Adults require a learning climate in which they can work confidently on topics that are relevant to their personal needs and that draw on their own experiences. If they are encouraged to participate in the decision making related to their learning, they will be more likely to take some responsibility for the consequences of those decisions, as well as for their own learning, and to offer suggestions for increasing the effectiveness of their learning."


- (Continuing Education, Canada 1987).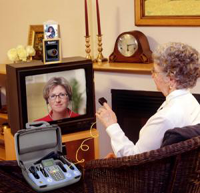 A common theme for virtually every profession and occupation in the 21st century, is that continuing education is vital. Nursing organizations around the world support this in the context of nursing. It is mandatory that Nurses continually keep themselves updated and educated in new theory, knowledge and practice issues and approaches. On-line resources can be an important resource for this purpose. Nurses work a variety of shifts and often juggle several crucial roles at once. On-line courses, specialty preparation, degree and graduate programs are becoming more popular and abundant, affording flexibility and access to many nurses around the world.
One method of organizing life long learning goals, needs, and experiences is the use of a portfolio: either digital or paper or both. The readings introduce you to a diverse overview of both life long learning and portfolio use in nursing and education. In this module you will begin to develop a portfolio that can be continued throughout your professional career.
Ends in View
This learning activity is intended to give the learner the opportunity to:
1. Recognize the importance of life long learning for all adults to increase social capital and their ability to thrive within a knowledge society.
2. Engage in personal life long learning planning to meet their own professional learning needs and maintain competence in their field.
3. Identify ways to continually develop skills and competencies in keeping with technological evolution.
4. Continue to apply the portfolio development process to initiate life long learning documentation.
In Preparation
1. READ: American Association of Colleges of Nursing (2010). Lifelong Learning in Medicine and Nursing: Final Conference Report Association of American Medical Colleges and theAmerican Association of Colleges of Nursing
2. READ: Filed, J. (2005). Social capital and lifelong learning. InFed.
3. READ: Lau, J. (2006). Guidelines on information literacy for life long learning. Boca del Rio, Veracruz, MX: International Federation of Library Associations and Institutions (IFLA).
4. READ: Koerner, J. (2003, January). The virtues of the virtual world. Enhancing the technology/knowledge professional interface for life-long learning. Nursing Administration Quarterly, 27(1), 9-17
5. READ: Joyce, P. (2005, April). A framework for portfolio development in postgraduate nursing practice. Journal Of Clinical Nursing, 14(4), 456-463.
6. READ: Meeus, W., Questier, F., & Derks, T. (2006, June). Open source eportfolio: development and implementation of an institution-wide electronic portfolio platform for students. Educational Media International, 43(2), 133-145.
7. READ: Oermann, M. (2002, March). Developing a Professional Portfolio in Nursing. Orthopaedic Nursing, 21(2), 73 - 79.
8. VIEW VIDEOS: View these brief, embedded videos related to life long learning and E-portfolios.
What is an ePortfolio?
How to create a job (printed) portfolio | For NURSES |
Why Comprehensive Education and Lifelong Learning are so Important for Nurses
Lifelong Learning - Why You NEED to be a Lifelong Learner
How to create a portfolio in Pebble Pad
In Practice
1. Use the Portfolio Worksheet and tips from the assigned readings to continue your professional portfolio to keep track of your life long learning (the spreadsheets created in Nursing 1241 should be completed after this semester to add permanently to this portfolio). To begin, gather artifacts such as your resume or CV, any certificates for CE or other courses you have completed (soon you will receive another one from this course's completion to add to your collection); any papers you have written, staff evaluations, and so on that demonstrate professional learning and growth. You can create a digital portfolio or a printed out/paper one (or both for backup). This is a work in progress – you are encouraged to continue this practice throughout your career (and life).
2. Include an autobiographical component to your portfolio where you include an outline your personal goals for the next ten years. Consider what themes and streams of advanced nursing practice (including evolving nursing informatics competencies) you wish to cultivate.
In Reflection
1. Reflect on how nursing informatics has/will help you to successfully engage in life long learning.
References
Canadian RN Continuing Education website http://www.canadianrn.com/
Government of Canada (1987). Continuing Education: A Resource Document.
BACK TO LEARNING ACTIVITY ARCHIVE....

.