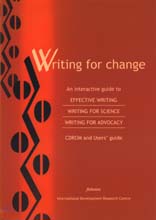 An Interactive Guide to Effective Writing, Writing for Science, and Writing for Advocacy
In Writing for Change, you will learn the core skills of effective writing, how to write for scientific publication, and how to write for advocacy. Writing for Change will enhance your capacity to write in ways that promote action from your target audience. It is full of practical exercises and examples from the field of international development. A resource centre contains training materials and links to many useful websites. Site maps and a printed users' guide make it simple to follow. Writing for Change will prove useful to researchers, campaigners, scientists, fundraisers, project managers, social activists, and especially trainers in writing and communication skills.
Buy the printed version from Amazon!


Introduction


Writing for Change has been developed, designed, and published by fahamu, in collaboration with Canada's International Development Research Centre (IDRC). The lead authors were Alan Barker, a specialist in communication skills, and Firoze Manji, project coordinator and Director of fahamu. Illustration and design were provided by Judith Charlton.

The book focuses on three key writing areas with a target reader group of professionals, non-profit organizers, and other change agents. The three key areas include effective core writing skills; writing for scientific publishing; and writing for advocacy and activist initiated change.

Writing papers for academic or scientific journals requires particular skills. You certainly need to be able to write well, using all the skills you acquired through studying the section on Effective Writing: core skills. But writing for journals is different from other forms of writing.

Although most researchers, whether working in the social, physical, biomedical or other sciences, have an intimate knowledge of their disciplines, very few have been trained in writing for publication. Most acquire these skills through trial and (often painful) error.

You will be impressed at the way the web site version of this book is laid out. Useful for nursing practitioners as well as educators, students, researchers, and administration. Clear, to the point, attentive to the target audience with meaningful guidelines to help you write, edit, publish, and otherwise disseminate your work.



Click to Read more about Writing for Change in IDRC's online version of this free to read book.